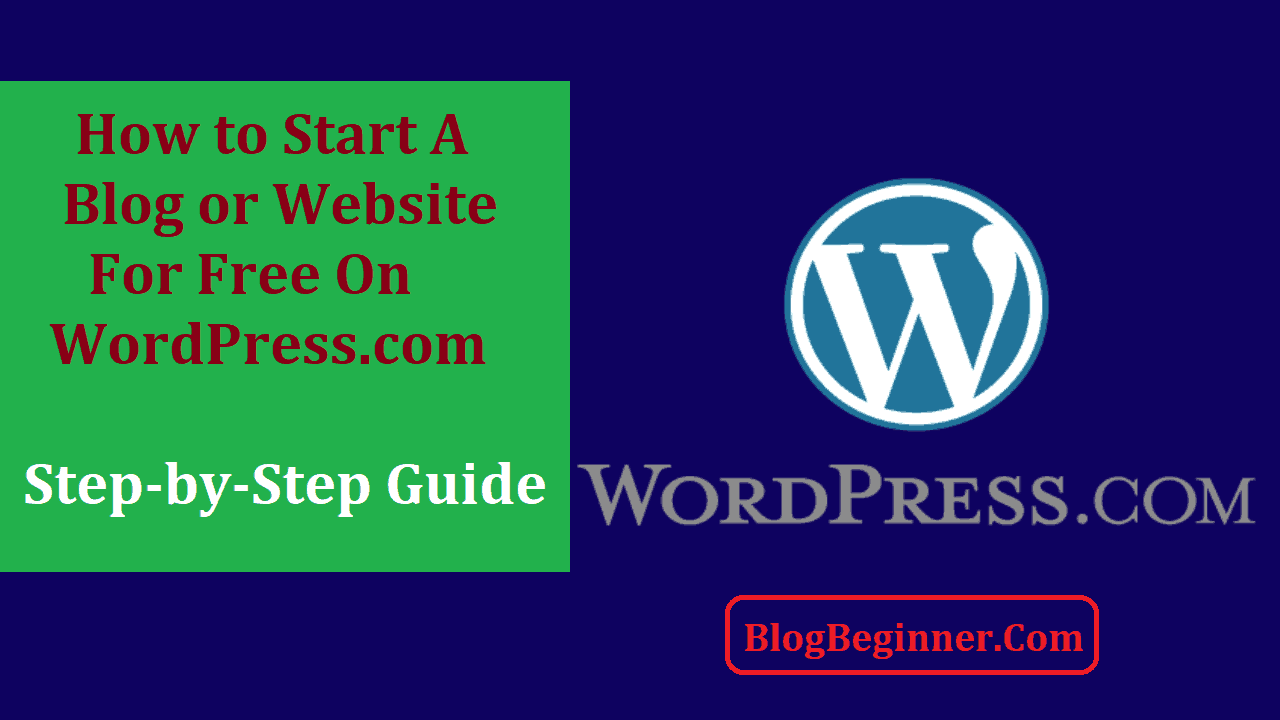 Starting a blog of your own may seem intimidating and overwhelming.
It is actually easy.
It doesn't matter how old you are.
You can make your own blog quickly!
In the beginning, you may commit a lot of mistakes.
That's ok.
What's important is that you learn from those mistakes.
This guide will help you start your own free blog on WordPress.com. But first, here's a brief intro on blogs.
What Is a Blog?
A blog, in simple terms, is a website type that focuses on blog posts or written content. You can start your own blog in any conceivable topic, although you probably hear a lot about celebrity and news blogs in pop culture.
Many bloggers write from their personal perspective. It gives them a direct connection to their readers. The readers can provide feedback to the blogger through the "comments section," which most blogs have.
As a blogger, you can improve your connection with your readers by interacting with them in your blog's comment section.
This is one of the advantages of having your own blog. It allows you to share ideas and interact with similar-minded people. You also gain the trust of your audience this way.
Why Start a Blog
A lot of people think that you must be a good writer to succeed as a blogger.
This is not true. Many successful bloggers make blog posts written in a conversational and very informal style.
This is because people read blogs to understand things from a personal perspective.
It is also not necessary to be an authority or expert on the topic you want to write about to succeed.
If you want to visit a blog about cooking, you don't expect to find posts made by food scientists, right?
You want to read the actual experience of one who cooked, made mistakes, but eventually perfected the recipe.
To succeed as a blogger, you only need to have one trait, and that is passion about your niche.
In the end, blogging is all about sharing what you know to other people. By picking a topic that you have a lot of passion for, starting a blog becomes an easy process.
It is alright if you want to write about not only a single topic. What's important is that you write about things you have genuine interest in. your readers will feel your passion through your writing.
Following are some reasons that make blogging worthwhile:
You earn money from home:
If done the right way, blogging can be a lucrative source of income. Even if you do it only a part-time basis, you can still have a decent passive income stream from your blog. You may not earn anywhere near what the world's top bloggers make, but hey, making a little profit from a few hours' work is nothing to complain about, right? As a bonus, you get to earn more money from your blog post long after you stopped writing.
You can share your story:
You can use your blog to let people hear your voice. You can share your life experiences to anyone who cares to listen. Many bloggers use their blogs as a diary where they write about their everyday experiences. This way, their family, friends, and other people can get a glimpse into their lives.
Gain recognition for you or your business:
A successful blog can help you gain popularity and recognition as an authority in your chosen niche. Many bloggers got their reputation as experts in their field because of their blog sites. The luckier ones even managed to bag movie and book deals because of their blogs.
Find a community to belong to:
As you know, blogging is interactive. You make a post, and your readers can make comments about it. There is no better way to connect with like-minded people.
The best part is, you get the chance to teach your audience, while at the same time, you learn from them.
One great thing about the current state of the internet is that it is teeming with growth potential. More people are online than ever before.
With this growth comes a bigger market for your blog.
Thus, if you are planning on creating a blog, don't dilly dally.
Now is the right time to do it!
Starting a Blog on WordPress.com for Free
Now, we've come to the meaty part of this article. So, how do you actually start your own blog?
Creating a free blog on WordPress isn't rocket science.
You only have to follow 5 easy steps, and you're on your way to your blogging adventure!
To get started, go to WordPress.com. Click start. You will get help on how to set-up your blog. Following is a detailed 5-step guide on how to do it:
Step 1: Choose a Layout for Your Homepage
First, you need to choose the appropriate homepage layout for your free WordPress blog. You have a number of options to choose from. These are:
List of the Latest Posts – This is the most common and most popular blog format today.
Grid of the Latest Posts – This layout is perfect if you're starting a photography blog or if you are have a lot of great photos.
Welcome Page for Your Online Store or Site – As the title suggests, the layout is best for businesses.
Step 2: Select an Appropriate Theme
The theme will determine how your blog will look like. Don't worry about making the wrong theme choice at the start. You can replace the theme, and choose the pictures and colors to go with it later.
But, it will be a real time-saver if you pick a theme that is as close as possible to what you have in mind. This way, you will have to allot less time for editing your theme in the future.
Step 3: Pick a Domain (the address and name of your blog)
The sad truth is, it can be hard to find a catchy and unique blog address on WordPress today. Most likely, what you have in mind is taken already.
This is because of the sheer number of websites on WordPress today.
You are reading this post because you want to learn how to create your own blog website without spending.
But, nothing is stopping you from buying your own domain – and WordPress isn't the right place to buy it. You can try GoDaddy, HostGator, and BlueHost, instead.
Even if you buy a domain somewhere else, you can still use the WordPress blogging software for free.
Going back to Step 3, which blog name should you choose?
Well, you have to keep on searching and brainstorming until you come up with something good.
You can use your real name if you want. After all, some of the world's most popular bloggers' domains carry their names.
One advantage of using your name is that you will not be restricted to writing a single particular topic.
Step 4: Choose a Plan
After completing the previous steps, and picking a name for your blog, you can click on the button marked "Select Free."
Why choose the paid version when you can have everything you need for free?
The paid version is a lot more expensive. It also does not have a lot of advantages over the free version.
Step 5: Create Your WordPress Account
Following are what you need to create an account:
It is best that you use the email account you open the most. It can be a Gmail, Yahoo, or Outlook account, or your email address from any email service provider.
It really doesn't matter what username you prefer to use. Just don't forget it. It can be your name or anything that you can identify with. In case your preferred username is already taken, just add some numbers to make it unique. No problem. After all, this is not your blog name that your readers will see.
For your password, it is a good idea to add special characters and various numbers. This will make it more difficult for hackers who may try to break into your blog.
Logging in to Your WordPress Blog
After completing the 5 steps above, you are just about ready to go. But, to finally start blogging, you must first have your email address verified. To do it, login to your email and open the email with the "verify" link. Once done, you can now login to your blog via http://wordpress.com/wp-admin.
How to Customize your Blog and Create Your Very First Post
You can now login, and start your blogging adventures. You will find the WordPress dashboard to be quite user-friendly and straightforward. But, before you begin blogging, you might find the need to replace your chosen theme. Just click on "Appearance" then "Themes" on the left sidebar.
You'll find lots of available themes to choose from – some are free, while some are paid. Don't get carried away and purchase a premium theme right there and then. They are very expensive.
As a beginner, it is best that you begin with a free theme. See what happens. Remember that you can replace it anytime you want – as many times a day, if necessary!
How to Add New Blog Posts and Pages
If you don't know yet, posts are the blog articles you post on your website, while pages are often the About Me or Contact pages. When creating new pages and blog posts, you need to be familiar with the options in your dashboard.
To create a new post, click "Post" then "New." When adding a new page, click "Page" then "Add New."
You can now proceed to creating your new post or blog. You can experiment first to see how it works. Try the other available options until you are comfortable enough to do the real thing.
Once you are done and ready to publish it online, click "Publish." To make it easier for your target readers to find it, add "tags." By adding tags, you can make it easier for readers to reach your blog, and not get lost among the many other blogs on the popular search engines.
But, don't get disappointed if you don't succeed at once. After all, it is common for new blogs not to receive a lot of traffic in the beginning. You need to do something to promote it.
You can start by sharing it to your family, friends, and colleagues, and using social media networks like Facebook and Twitter.
By now, you should have realized that starting a free blog on WordPress on your own isn't as difficult as you may have initially thought it would be. If you are fast enough, you can complete the process in less than an hour.
To help you get a good head-start as a blogger, here are some frequently-asked questions about starting a WordPress blog and their answers.
FAQs on How to Create a New WordPress Blog for Free
Is it possible to create my WordPress blog offline?
Unfortunately, you cannot create a WordPress blog. You have to be online to complete the 5 steps discussed above.
What are the requirements for starting a WordPress blog?
As mentioned, you need to have internet connection. You need a computer or laptop as well. Although you can do it using a tablet or a mobile device, it can be very inconvenient. Now, if you prefer to have a premium package, you'll need a valid credit card or PayPal account.
How much will it cost me to create a WordPress blog?
You are reading this post because you want to have a free WordPress blog. Well, the basic package won't cost you anything. All the features you need to start are there. The premium package would cost you $99/year. You can download the WordPress software for free. But, you will need a domain as well as hosting services that cost a few bucks each month.
How do I start a WordPress.com blog for free?
Just follow the 5-step guide provided in this post to the letter, and you can have your free WordPress blog in no time. Make sure to opt for the free plan when the choice of plans are presented.