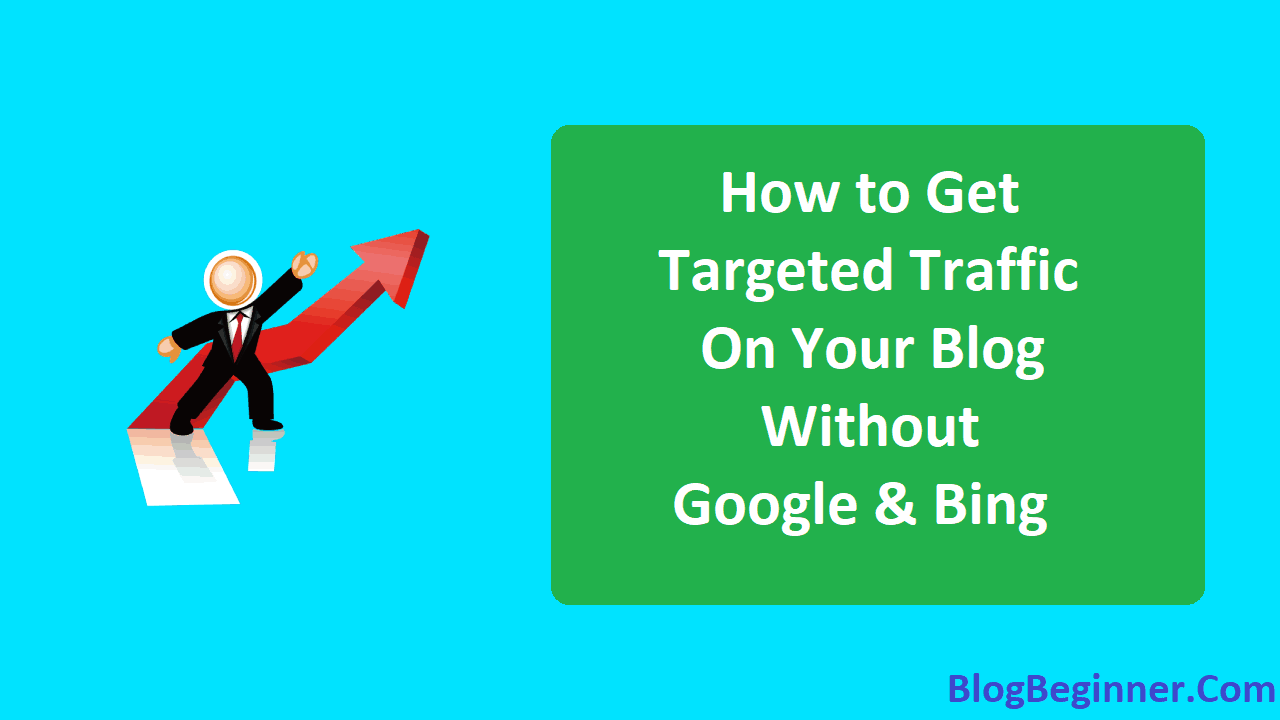 If you are entering into the crowded niche for the first time, then it would take quite some time to achieve good traffic to your blog.  Instead of worrying about losing the Google search traffic, you should plan for an alternative solution.
One should never rely on a single source of traffic for business. You require multiple streams to ensure traffic and it will act as an insurance against inevitable changes happening in search algorithms.
Earlier days the online traffic was quite easy to achieve, you just build it and the flow of visitors will start immediately.
Soon after one builds the website, Google would be sending traffic.  But in current scenarios, the fight for traffic and online supremacy has become quite competitive. The biggest mistake one makes while blogging is focusing on wrong content and wrong metric as said by famous blogger Robert Mening.
Below mentioned are different ways one can generate traffic without the help of Google.
Blog commenting
There would be different top blogs that are related to your niche which would be getting thousands of visitors each day.
The best way to comment on the blog is to read the post thoroughly first and if you got something meaningful or useful to add, then you should leave the comment. Purpose of commenting is to grow your own network by adding value to the conversation.
While you comment, use your original name as others who read the comment will be curious to know more about you.
If you have the similar content on your blog site, then you could use the specific URL as a further reference link rather than putting up your link to home page.
Guest blogging
Blogging as a guest in a popular blog is all about leveraging the traffic.  You could accomplish many things if your content gets published on a popular blog. Listed below are few of the benefits:
To your own website, you will receive highly targeted traffic
You will receive high-quality inbound links
Your own brand development
You will be established as an authority in your niche
Higher rankings in search engine which results from high-quality inbound links
Email
Every business would benefit from the mailing list. There are various email services one can make use of to manage the campaigns and listing and there is no excuse in missing out this opportunity.
Email marketing is still the best converting and traffic generating strategies.  The biggest benefit in running the regular marketing campaign through email reminds the audience about the value you are offering them.
In addition to this, email marketing helps in building a stronger relationship with the audience through the means of nurturing their trust by providing them with the valuable and relevant content for free.
If done right, the email marketing places your post in front of the audience every time they check the mail.
Recommended Articles For You
Useful Articles Only For You
This is one of the effective traffic generating activity which has been forgotten by many online marketers but is used by many newcomers.
It is a great link building activity which offers one with an opportunity to garner traffic to your site without the help of Google. Also, it works best for the organic search rankings as many of the social bookmarking sites will allow to put up the 'do follow' links.
Tips to promote the content on various social bookmarking sites:
You should be always relevant and ensure that you bookmark the content on the appropriate It will help in targeting the right audience for the post.
You should strive to promote only high quality and original content
You should post your content's link on the social bookmarking sites immediately every time you update the new content.
Learn to observe the best practices of SEO. Social bookmarking sites will help in creating the descriptions and titles for each content for you to bookmark.  Ensure that you include the keywords in the description and titles.
Social media
Social media is the best medium for traffic generation. The formula to be successful is quite simple. You need to optimize the social media profile and then link it back to the blog website.
On regular basis, you could offer fun and useful content. It is quite simple and easy to share the content on social media.
Sweepstakes and contests
These are 2 varied strategies but are quite similar in some ways. Running the sweepstakes and contests will help in effectively increasing the attention and social media engagement.
It helps in building the list of subscribers.  Through the process of sweepstakes and contests, you will get subscribers or interested people lined up for things they want.
However just ensure that you offer something which is relevant to the topic. You could use the social media sites to run the contest.
Affiliate traffic
It will help in driving traffic to your site.  Create a blog first wherein you could keep the affiliated updates. The announcement should be made before 90 days of the launch.
You should announce the launch first before you set to create the content which you want the affiliates to promote.
You should try to keep building the subscribers before the pre-launch periods.  You need to give free tools and contents to your affiliates.  This strategy treats the launch as a great event.
As it is able to create quite a lot of momentum and buzz, the conversion rate and the frequency rate will improve till the launch period.
Forum commenting
There are many conversations which will be happening around various sites which would be related to your own niche. Starting or joining in a forum conversation will result in the instant traffic.
It is not about dropping the link as in blog commenting but it is more of carrying out engaging conversation and adding more value to that conversation.
Search for the forums, join it, pay attention to rules, become a member and actively participate in that community. Try to avoid self-promotion. If you are able to provide useful information, the readers will definitely search for you.