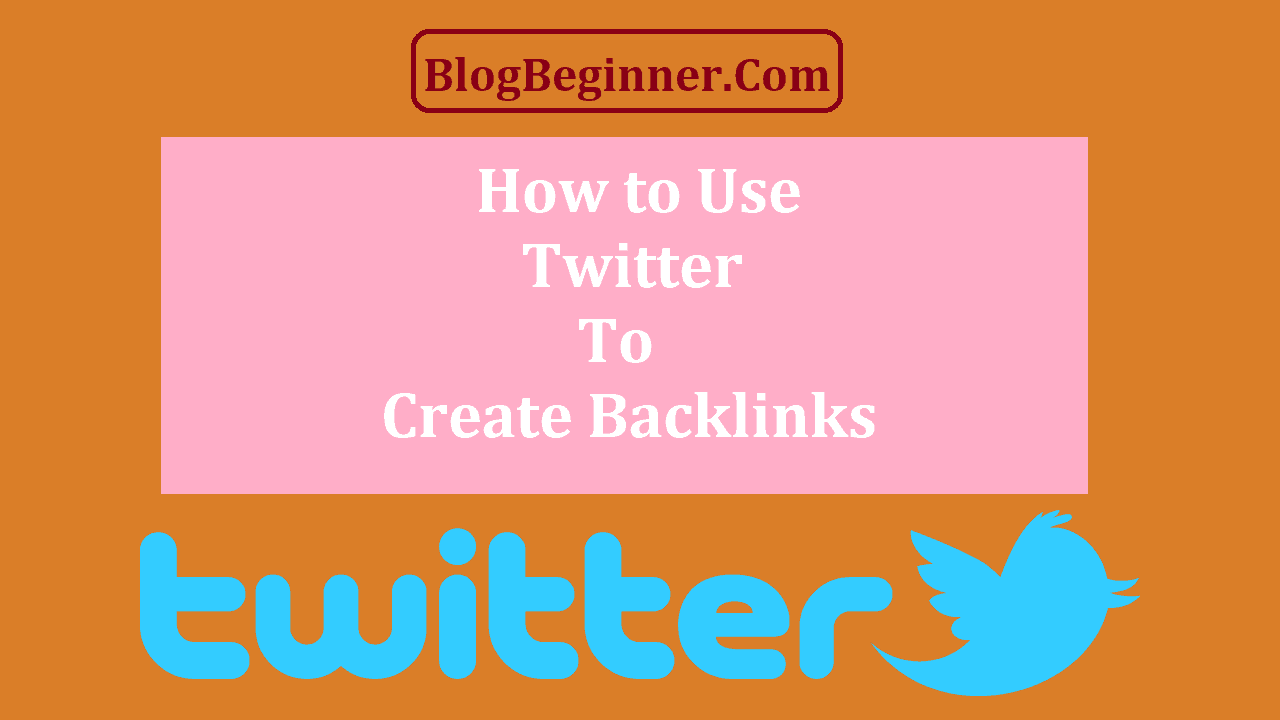 Twitter is social media site that is full of influencers that are eager to link to your blog or site. What many Twitter users don't know is the fact that this social site can be the ultimate resource for link building activities.
Twitter plays a crucial role in link building process and can help build quality links in different ways.
However, the links created using Twitter are NoFollow links, but you must not stop using it for building links for your blogs or websites.
The Twitter Links usually help blogs or websites to create credibility and also increase the ranking on search engines.
The prime benefit of Twitter Links is that you will be receiving quality traffic and clicks from those users who are relevant to your niche or networked.
The traffics coming to your blog or site are the ones that share the common interests like yours. This leads to higher quality, better links which promotes better conversions later.
Below you will come across with some helpful tips on link building using Twitter.
Finding the Top Ranking Sites
The very first tip for link building via Twitter is to find the twitter accounts of the top ranking sites and blogs.
You need to ensure that the Twitter account of the website you are choosing to follow is related to your niche. You are required to check the number of people and their interest that are following the account.
There are a variety of Twitter directories online that can help you locate and find the people that share the same interest.
These directories can help you find the category that match your circle and also provides you with the list of top ranking accounts.
It would be easier for you to known if the Twitter account is following large number of targets if it has larger number of followers compared to the people followed.
You also need to check out the websites of the Twitter accounts you are following and ensure to include them in outreach program.
It is recommended that you follow, retweet and reply the tweets from the people present in your outreach program list before you start pitching them.
Make Use of Twitter Search That Works Efficiently
The job of finding like-minded people on Twitter that share the same interest and coming closure to this group of people would become easier if you make use of Twitter Search Engine.
Twitter has its own search engine that allows you to search cleaner, faster and better.
From the search engine you can find the people related to your niche, and also like-minded people tweets and pages. You can make use of keywords to search the right niche of your desire.
Enter the keyword in the search box and easily get to know what exactly is being tweeted about the keyword and who has tweeted.
Hashtags are another crucial tool as it works as keyword and you can search for popular hashtags that are related to your niche.
The end results would lead you to the Twitter accounts that are tweeting about the keywords.
You can easily access their Twitter accounts and profiles and also easily judge them from their available profile whether it can be added into your network or not. But ensure to keep your niche in mind.
Networking With the Right People on Twitter
Now when you are well versed with the process to find the top influencers in Twitter, it is the time to network with the right people.
You are required to filter the influencers in Twitter until you find those that are most relevant to your network and fit your niche.
To start with you must follow the top influencer and then start following the most popular ones in the list and continue with the chain and keep it going by exploring the complete list of all who are looking to be influential.
Apart from these people, you are required to follow the ones that generate most interest and response amongst the followers. Now it is the time to add some personal touch.
Now you are required to unleash the social networking talent inside you and start interacting with the people whom you are following.
Ensure to comment, re-tweet, tweet, interact with them in every way possible.
This will help you grab their attention and ensure to make them compelling to notice you so that they may find interest in your and start integrating with you.
After developing a strong connection with the influencers you need to politely ask for sharing your link with them.
Developing the Lists and Favourites
It is really very helpful to develop Twitter lists. The list comprises of only sorted users and the handpicked ones which are related and relevant to your niche and shares the same interest.
So, you are required to create a list of people that are like-minded and you think would be a wonder for your Twitter link building.
The list must comprise of only those influencers that are more than eager to share your links and promote your interests to their friends and followers.
Every Twitter users have their own lists on the profile even the top ranking influencers have their own lists. So, ensure to follow this step to get the people's lists.
Once you have the influencers properly listed on the list, now you need to lookout for the best list corresponding that is related to your niche.
You will find many helpful tools available online that can support you to search for the best Twitter lists. With the help of these tools you will be able to check how many people are mentioned on the list and the number of followers these people actually have in Twitter.
Twitter is the social site that gives you the platform to find the relevant people that are like-minded and share the same interest.
So, by following those people and make a contact you can build good network so that you can share your links and get more organic traffic to your blog.