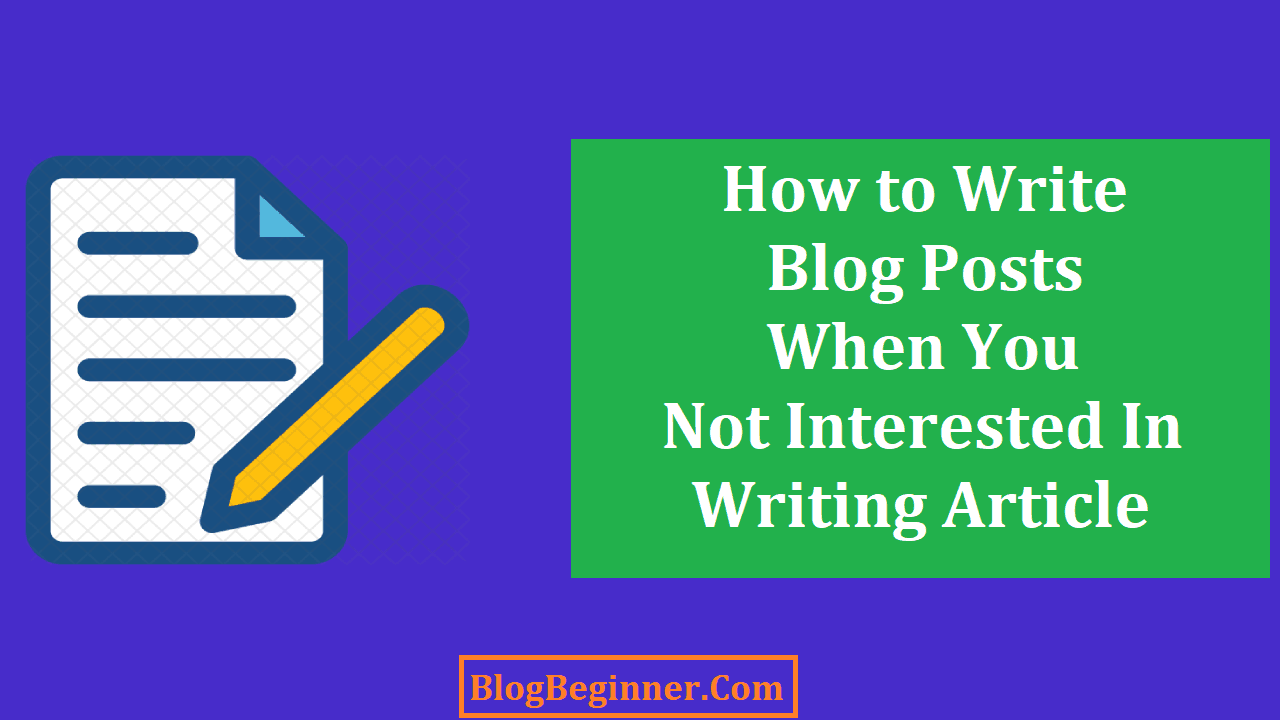 Everyone who writes hits a rut. It doesn't matter if you are having the best or the worst day of your life: some days, sitting down to type a sentence is a huge hurdle. And, there's something else we can agree on: the only way to get out of the rut is by writing.
You have to write even when you don't feel like writing.
How?
Given the number of times you have procrastinated only to rush through work to beat deadlines, you will be happy to know that there is a secret to writing when you don't feel like it.
1. Search for your creative space/ nook
Which is that one place that gives you an instant high, the place you can write effortlessly, even when noisy?
Leave the house or office and head out to your creative nook.
Often, the only thing that you need to get started with a few words is the right location. It could be a coffee shop, a park, or your bedroom.
2. Talk it out
Just because you cannot write doesn't mean you have to wait for your motivation to kick in. Put your thoughts and ideas into spoken words and sentences using a voice dictation software.
There are numerous apps you can choose from, and Google Docs also has a dictation feature you can use.
The only catch is that the software applications are not perfect.
You'll have to proofread, laugh at some of the words in there, but at the end of the day, you'll have your work reduced by half.
3. Make writing your job
Knowing that your bills will remain unpaid and your kids may not get those gifts you promised for Christmas means you work harder.
Make writing your job rather than something you only do when you feel like.
By making writing a job, even if you start as a volunteer, you will have to motivation to write, and you will hardly have moments when you don't feel like writing.
Your life depends on it, so it makes sense to write.
Also, can we agree that there is nothing better at boosting your creative juices like a deadline?
4. Hit the road
You don't have to run like you are being chased.
All you have to do is walk out of the house or office or jog.
A change in scenery and physical activity pumps you up.
A run increases oxygen to your brain giving you a mental boost.
At the same time, a few minutes outdoors means you get your daily dose of vitamin D, something important for your mental focus and function.
A deep breath is also recommended.
If you settle on taking a walk, take your phone with you if you have Evernote (you should have Evernote). The walk will clear your mind and unblock that creative block.
5. Just Write
Don't feel like writing?
Write anyway.
It doesn't matter if you have something to say or not.
The moment you start writing you will write and a few minutes into it, you get your groove, and you'll wonder why you were struggling in the first place.
Many writers swear by this logic.
While you will start at a slow pace, if you write long enough, you'll get excited about writing, and you might not stop for a few more hours.
6. Think of the feeling of accomplishment that comes after writing
The writing process is most painful, and starting is the worst part of it all.
But, procrastination is even more painful.
Regardless of what you feel, take that pain and grieve and channel it into your writing.  Checking off tasks from your to-do list is one of the best things you can ever do.
7. Read
And don't just read anything, but read a book from an author you admire.
To make this more effective, read out loud. You'll feel like your mentor is speaking to you. Reading is a great exercise when dealing with brain fog or a creative block.
Read Books, Magazine, Other blogs, etc. to increase your knowledge.
If you start learning things then your writing skill will also start to grow.
Keep learning and start writing will make your article writing skill grow. And if you keep the practice of writing things then you will automatically get interested in writing article.
8. Take a Break While Writing
If you are writing a long article then we suggest you get a break of 5-10 minutes in every one or two hours. Because if you write a big article continuously then after some time you get bored while writing.
If you get bored while writing an article then you can't think about writing another article. This is a bad idea to write an article without taking any break time as a beginner.
So I strongly recommend you to take a break every time while writing an article.
9. Think About Your Dreams
Every blog beginner starts their blog to make money from it. Everyone has some dream to be completed after getting success in blogging. So I think you also have some dream to make it true.
Just think about your dream because if you stop writing then you are not able to complete your dream.
We all know that it takes time to get success in blogging. Blogging takes time in the beginning but if your blog starts ranking then you get to benefit from your blog for a longer time.
There are many big bloggers that are living on their blog. So write with happiness and confidence and follow all your dreams in your life. Nothing impossible.
10 Engage the Muscle Memory
You know how you do specific things before you write.
Well, those little things turn into rituals engorged in your brain's muscle memory.
A few rituals like sitting, opening your laptop, firing up the application you use to write, and putting your fingers on the keyboard will easily get you in the writing mood.
Lastly, set a timer.
And keep in mind that writing when you don't feel like writing is all about getting past the initial discomfort.