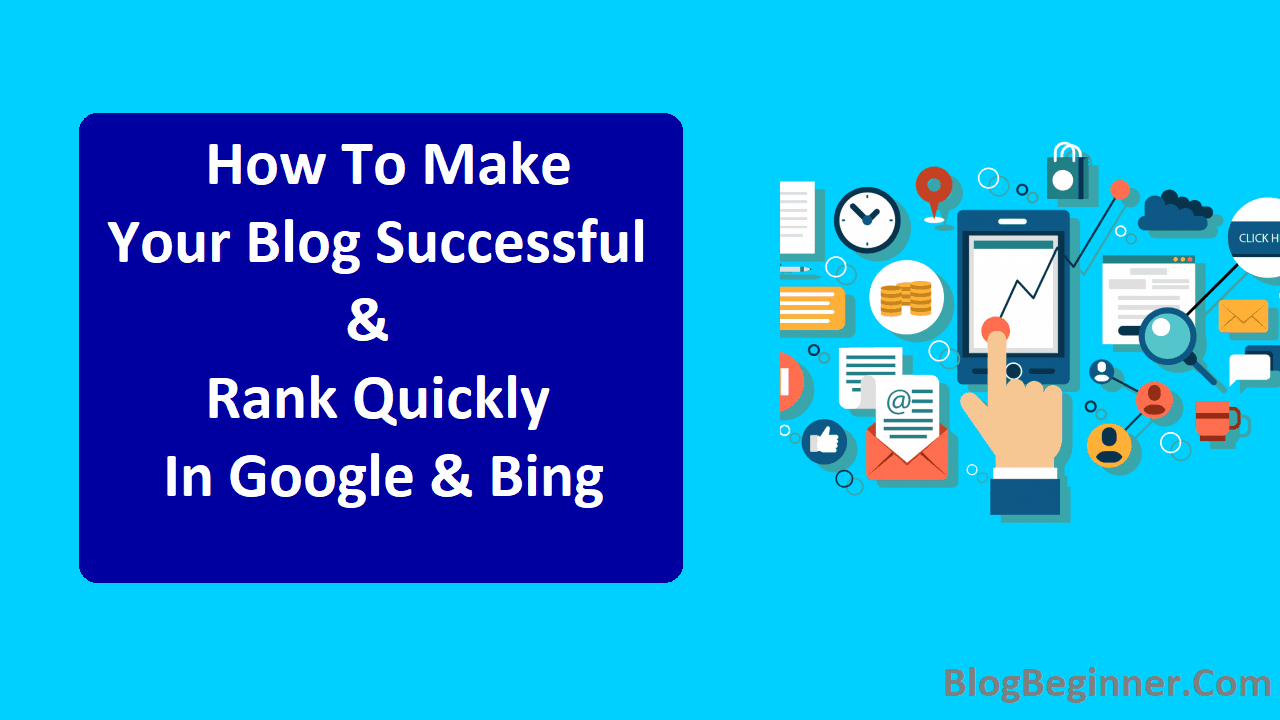 Blogging isn't a new trend. It came to us through technology almost half a decade ago, however, is important is realized by people with time.
With thousands of bloggers and millions of articles available on the web, why do you think people will spare time from their hectic schedules to read your content?
Pretty obvious question, isn't?
A good content can make them do so. Blogging is easy today with the availability of many websites and convenient accessibility on the internet. But a successful blogger is one in a thousand. Out of the crowd, there is only one who is popular, successful and influencing.
We have tried to make out small points out of success stories and the strategy used by popular bloggers to help you make a successful blog. Some of these are practical ideas, others are technical.
Have a look at the essential elements which can make your blog successful.
SEO-friendly content can go a long way add keywords in your content
Keywords are basically the most searched words or small sentences. Inserting keywords will bring more traffic to your blog.
Search engine optimization is important to gather more readers today.
It works not only for business but also to promote services. Writing SEO friendly content is the best way to get more readers on your account, hence resulting in a successful blogger.
Also, try to create a 100% unique content as readers won't be interested in reading the same type of content over and over. To build their interest, put fresh ideas and frame interesting sentences.
Choose a genre and constantly put forward new things about it to add more value to your account. Sticking to a particular genre will lead to loyal followers.
Give your followers a platform to connect with you
If you don't talk to people directly, they will talk about our behind your back. Blogging is an expression of one's thoughts, ideas, views and response on particular or multiple subjects in form of writing.
Thus, it will affect people's mind. It is important to give readers a platform to connect with you in form of comments in the comment section.
If you don't so, you are going to in talks on social media and create unnecessary bad fame. However, comments are not always nice and soft. Handling mean comments is a tough thing to do, but being a blogger you must learn the art.
Use protective measures to handle mean and abusive comments as well; else your account can appear cheap and offensive. Reply to haters but with modesty and subtleness.A writer creates an influence; he must not lose calm over petty things.
Express your views on current situations blogs
It is not necessary to write news or something currently happening in society. It could be as basic as your idea about food and clothing.
Despite the fact that there is no set pattern or rules to be followed for writing a blog, there are some hidden rules which most successful bloggers follow. One of them is writing about the present, today and what's trending in the market.
It could be news about a happening, good or bad, or an event which has made you pay or proud about your country. Basically, it cold is anything people are aware of and can relate to.
A well aware writer has the potential to create awareness among people, so read a lot. The more knowledge you have, the more impactful will be your work.
Choose to be a trendsetter and not a follower
There are celebrities and fans, public figures and public, trendsetters and trend followers. What do you choose to be? The former. So is the case with blogging and becoming a known figure in the world of web.
Do not blog about genre or topics which are usual and commonly seen on the internet. Instead, choose to write on exceptional subjects, something which requires concern or is ignored from a long period of time.
Writing about a different topic might be tricky in the beginning, but after few write-ups, it could possibly be the most trending genre on the web.
Write different can make you the center of attraction amongst bloggers.
Environment, start-up, any issues of rural areas and taboos can be discussed and more people can be encouraged to take initiative against evils taboos and social awareness can be created through writing.
Do not self-praise, be modest
Most bloggers these days use blogging on social platforms to publicize them, promote their business. But self-praising is definitely not the key. People who do it end up with fewer followers.
Therefore, promote yourself to an extent where you don't sound like a self-praising worthless human.
Instead, use references and attach reviews of other people to publicize you in the readers. Blogging can become the technological advances way of promotion. But usage of wise and right words can only help you go a long way.
Sharing is a must make a longer chain
How will people know you unless you give them platforms, and sources and links?
Sharing on s me on various globally connecting applications is an effective way to get more traffic on your blog account the more people will know about you.
The more they will read and give references to their known ones and hence, the journey from an unknown to a popular blog can be reached easily.
Making an account of facebook, linkedin, Instagram, Twitter, and others social pass will give you more platforms to build a strong and elongated chain. Share links of your blog on these apps.
These are some tried and tested tips which can help you in a long run. However, do not resist yourself from trying other measures as well. Feel free to explore the world of writing.
The more you resist yourself, the more independent blogger you will become. There are no set rules to become successful in writing, blogging or becoming an influence. Following your heart and your passion is the only set rule and the best direction to move.