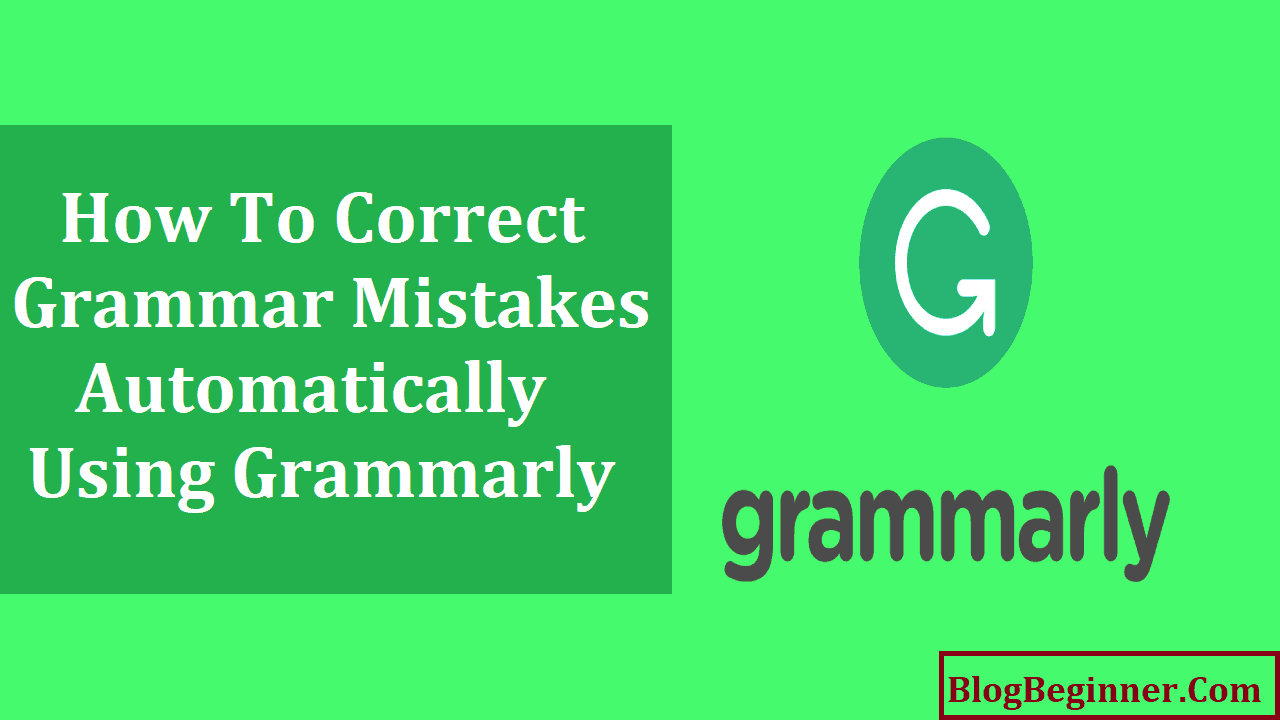 If you are engaged in content writing, content management or simply blog writing, then you are apprised of the importance of well formatted, error-free articles.
Although the mistakes of misspelling, punctuations and selection of suitable words in write-up seem to be a minor yet it is one of the deciding factors of the quality in the minds of readers.
So, it certainly means that you cannot ignore these errors during proofreading; also you may lead to departure of many people from your platform if you continue these mistakes (these are not ominous words but a pre-emptive one).
Even if you employ a grammar Nazi, there might be a possibility of a few errors left in the content.
Well, this doesn't mean that there is no solution to this problem, there are many people who don't have English as a native language but they are able to present their thoughts very well and apt, how can this happen?
You may explore in this article.
Many of the newbies in blog writing feel pressure to craft impeccable write-up, making more effort to hunt obscure words and phrases in spite of aiming at creating worthwhile content.
For them, they can outsource the work of proofreading and making content error-free.
Yes, outsource to Grammarly which may bring surety of making content free from errors.
About Grammarly:
Grammarly is an impressive software powered by artificial intelligence technology. It helps the user to make content error-free by checking grammar, spelling mistakes, plagiarism detection, suggesting suitable words etc. It was developed by Grammarly Inc. in late 2009, it rectifies the mistakes by checking more than 250 grammar rules (who does this?).
Right now it supports only English keyboard and available in four versions of the language (American, British, Canadian and Australian).
It integrates with the entire platform you use in your system, as you type; it immediately underlines the error(s), thereby signalling you to rectify that.
Features of Grammarly:
You can simply download this from their official sites, also you can synchronize it with your email address and word so that when you write any write-up, at the same time it may you can rectify any mistake.
A free version is very much splendid and fulfils many of the aspects. For example, you started typing by integrating the Grammarly, if any error occurs, you may see a line under that error, after that you have to move the cursor on that error to see the correct form of expression. By doing this, you can rectify your mistakes.
You can use this platform in two ways, the first one when you have finished the write-up and the second one when you are writing. It is very much subjective which one you like. Some may prefer the first one as they get a chance to correct expression at ones and does not have to correct word by word during the writing process. Well, you will figure out which one to use after some time.
Moreover, you may get the explanation of each error(s), this can improve your understanding of the language and helps you to avoid in upcoming articles.
There are many confusing words like compliment vs. complement, affect vs. effect, adapt vs. adept, apposite vs. opposite, casual vs. causal, bridle vs. bridal and many more like this. These mistakes have more chances of escape from the human eye and that's why it needed to use a robust tool and Grammarly serves that purpose.
You can also rectify incorrect modifier usage, incorrect article usage, passive and active voice etc.
Apart from above-mentioned, you get a vocabulary enhancement feature in which you may get the synonym of the words that come much time in your article.
Three versions:
Well, there is three version of Grammarly available, the first one is a free version, the second one is premium and the third one is business.
You can opt for any of your choices according to your requirement.
In premium, you can have the access to correct inappropriate tone or formality tone, hedging language, unnatural phrasing, impoliteness, plagiarism, insensitive or non-inclusive language, inconsistent writing style.
These features can be used by only one user, if you have a number of users then you can use a business version in which 3 to 100 members can use it.
For more information, you can visit the official site.
Is a suggestion of Grammarly are cent-per cent error-free?
Well, many of the new user or non-native English speakers ask this question, as they accept all the suggestion given by the Grammarly without thinking much. But it should not be the case, you have to understand that these suggestions were given by machine and you are human, and also you have employs certain factors before writing a write-up, so you have to read it ones to ensure that after the correction, is it is the things which you want to convey?
If you think there is no mistake in your expression and you are confident enough to use your version of expression, then you can surely trust yourself.
Although no article is perfect yet by the use of this you can achieve decent expression with less possibility of error.
By the use of Grammarly, you find it easy to rectify the mistakes and it can act as a handy tool.
Well, in this article you have seen what Grammarly do, its features, its three versions, and how can it help you to stop making mistake in English.
Another interesting thing you can do with this, if you use social media sites to express your views then you can impress your friends with your impeccable grammar.
Hope you have learned a few things after reading this article, now you can have a hold of an effective tool to present your expression in a decent way.
Go and explore more by the use of it and enjoy writing!